PRESS RELEASE AND NOTE FROM THE
Anarchist International Embassy in Oslo
l'ambassade du monde libertaire
http://www.anarchy.no/embassy.html
ABOUT TIMOR-LESTE/EAST TIMOR - WITH UPDATED NEWS AND COMMENTS
---
TO TIMOR-LESTE/EAST TIMOR
CONGRATULATIONS WITH INDEPENDENCE AND HOPEFULLY ANARCHY
We hope East Timor soon will reach the state of anarchy, i.e. real democracy.
Put the trotskyites (and other marxians) at place - we know they are manipulating in T.L/E.T.
If you need advice on economical-political questions, feel free to mail us.
We will be at your service.
Feel free to read the news, comments and research at www.anarchy.no updated.
IJ@ has subscribed to T.L./E.T. news and will present them in an anarchist context.

- TIERRA Y LIBERTAD -
2002
Cordially ....
Chargé d'affaires A. Quist
for AIE
---
In 1999, the world watched as Timor-Leste/East Timor, a small island North of Australia, voted for and gained their freedom from Indonesian occupation, in a UN- supervised referendum. As the referendum concluded with an overwhelming victory for independence, we watched on international television as Indonesian-trained militia and Indonesian armed forces were unleashed across the country -- massacring civilians, cutting power and water lines, and burning 85% of the buildings in the country, including virtually all schools and nearly all businesses.

Today, under UN protection, and with a UN Transitional Administration assisting in the peaceful transition to a new government, the East Timorese people are rebuilding their nation. They have held their first democratic election -- an election so peaceful that families brought their children to the polling booths. They have drafted and adopted their country's first constitution, adopted their national flag and national anthem. They have just held their first ever Presidential election.

On May 19 and 20, 2002, the world will again watch. This time, we will watch and celebrate with them, through two days of music, culture and tradition, as the United Nations hands over the reins to this newly estabished democratic government, and East Timor stands on its feet as the first new, free country of the millenium.
In December 1996 the Nobel Peace Prize went to East-Timor, a repressed country which in a long time has been on the agenda of anarchists, say, Noam Chomsky, the Northern Anarchist Confederation (NAC), and others. The Nobel Prizes are a series of annual awards provided for by a large fund, in the will of Alfred B. Nobel, the inventor of the dynamite. While the academic Nobel Prizes are Swedish, the political and antimilitarist Peace Prize is decided by a committee selected by the Norwegian Storting. This committee is quite autonomous. Some foreigners think the prize is decided by the state council, but that is not true. The first peace prize was given to Jean Henry Dunant, from the Swiss Confederation, in 1901. The German Carl Von Ossietzky, who won the prize in 1935, and the American Martin Luther King Jr. in 1964, may also be mentioned.
After the dark months that closed 2001, the birth of a new democracy on our planet is cause for celebration. East Timor's independence is, as Nobel Peace Prize winner Jose Ramos-Horta has stated, "a triumph of faith and conviction over oppression and tyranny". It is a victory of the human spirit, and the spirit of the Timorese people -- the spirit that enabled this tiny population of less than 800,000 people, with no effective army, and no allies, to throw off the yoke of one of the most brutal regime's in our planet's history. Not by terrorism, but by working within the international community to achieve justice.

It is also a victory for the international community, who came together at a time of crisis for a small country, and worked to set it right -- sending peacekeeping forces which stopped the slaughter and saved a people, and staying on afterwards to help East Timor stand on its feet.

East Timor's independence is a triumph for the United Nations, who kept the dialog on East Timor alive through 24 years of illegal occupation - who organized and oversaw the referendum, mobilized and organized the peacekeepers, and have since worked tirelessly to train, post, and establish this new democratic system, hopefully not government in anarchistic meaning (click on http://www.anarchy.no/a_e_p_m.html and search for government, to see what we mean) but societal management and coordination without rule-r-s, i.e. real democracy and anarchy - not "people's democracy" as in China, Cuba and Vietnam or other forms of pseudo-democracy.

Others joining this celebration include the many individual humanitarians, activists and groups around the world who cared - people who wrote letters, spoke out, contributed, talked about it in classes in schools, sent aid, and even at times marched in the streets with signs.

Above all, the celebration of East Timor is one that holds a lesson. A lesson that we are a group on this planet, that people of good will can band together and work together for freedom - not just for ourselves, but for others - and that as a group, we can create miracles.
19.05.2002 16.00 East Timor: Birth of a nation. The new flag now flies over East Timor. East Timor key facts: Asia's poorest country; Languages include Tetum, Portuguese and Indonesian; 90% Roman Catholic. East Timor has officially been declared independent, in a ceremony marking an official end to 450 years of foreign rule over the territory. World leaders attending the celebrations in the capital, Dili, include UN Secretary General Kofi Annan, who has handed over authority to the new central administration.
Bill Clinton embraced the incoming president. President-elect Xanana Gusmao has urged his people to put the past behind them and to forge a new nation. Speaking at the independence ceremony, Mr Kofi Annan said he was "proud of the partnership" between the UN and the people of East Timor. "It's a day of pride for all of us," he said. Xanana Gusmao is to be sworn in as president shortly. The ceremony was preceded by a mass as well as a cultural programme of singing and dancing. Good wishes have flooded in from around the world, anarchists included. Vendors have been selling the new national flag and Independence Day T-shirts. After his arrival in Dili, Mr Annan described East Timor's independence as a moment of pride and liberation. Although peace-keeping forces would gradually pull out after independence, he said, the UN would remain engaged and would continue to support an independent East Timor.
The statement is intended to reassure the Timorese - many of whom felt abandoned by the international community during the Indonesian occupation. East Timor has been a success story for the UN. In less than three years, it has helped the shattered country to stand on its own feet and, despite the challenges ahead, that sense of achievement dominates the festivities. World leaders attending the independence celebrations include Australian Prime Minister John Howard and former US President Bill Clinton. The president of Indonesia, Megawati Sukarnoputri, is also attending, despite some politicians in Indonesia urging her not to go. A last-minute diplomatic row with Indonesia appeared to loom when it dispatched six navy ships to accompany President Megawati. Jakarta explained that the ships were needed as extra security for President Megawati, but the ships withdrew offshore after a protest from the East Timorese central administration. About 200,000 East Timorese are thought to have died under Indonesia's occupation of the former Portuguese colony. Several hundred thousand who fled the violence in East Timor have now returned home. Mr Horta said he was confident that any differences with Jakarta could be settled. "The road ahead in our relations with Indonesia will be a bumpy one, but we are always able to resolve the differences," he said.
20.05.2002: Aid-money from the Anarchy of Norway to East Timor: The state councillor of the department for aid and devolopment, Hilde Frafjord Johnson, signed Monday an aid-agreement with East Timor. This year 50 million NOK in aid will go to East Timor. The agreement is signed for 3 years. The main purpose is to fight powerty, and develope good societal manangement (hopefully anarchy), welfare for the people, and allocation of natural resources as well.
President Xanana Gusmao, himself inaugurated shortly after midnight (1500GMT) on Sunday, swore in a 24-member cabinet in the capital, Dili, on Monday morning as the country awoke from an all-night party. The new territory quickly received an economic lift, with PM Mari Alkatiri signing a lucrative oil deal with Australia under which East Timor will get 90% of the revenue from a jointly controlled area of the Timor Sea. And at the parliament's inaugural session, Mr Alkatiri presented the programme of his new central administration, stressing that his main spending priorities would be health and education. Over the next three years, he said, the amount spent on these essential services would increase to almost half the national budget. Earlier, Mr Alkatiri also emphasised "the importance of the policy of national reconciliation as an essential base for national stability". East Timor was terrorised by pro-Indonesian militias during the vote for independence in 1999, and President Gusmao wants to rehabilitate these former militia members into East Timorese society. The legislature also voted to sign the UN Universal Declaration of Human Rights and become the newest member of the 189-strong world body later this year. East Timor is already forging links abroad.
China announced that it had become the first country to strike up diplomatic relations with the new country, as former US President Bill Clinton raised the stars and stripes at the new US embassy. Mr Clinton acknowledged after the ceremony that the US could have done more after Indonesia's invasion of East Timor in 1975. "I don't believe America or any of the other countries were sufficiently sensitive in the beginning or for a long time," he told reporters. East Timor's economy was seriously damaged by the violent Indonesian withdrawal in 1999 and by centuries of neglect as a Portuguese colony. International donors - particularly former colonial power Portugal - have made an extra $360m available to help in East Timor's construction. Among the problems East Timor faces are its isolation, its lack of infrastructure and its poorly educated population. But if agreements are signed with Australia to cover the other oil fields in the region, East Timor could receive a windfall of billions of dollars over the next two decades. East Timor became the 191st member of the United Nations. Diplomats from around the world applauded East Timor's membership, which came four months after it officially declared its independence from Indonesia.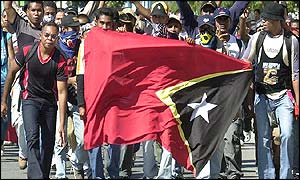 "We hope that you will join us on this special day, when we welcome the newest member of our international community"
(19-20.05.2002).
Timor-Leste/East Timor update December 2002
East Timor is on a state of alert after riots and ochlarchy sparked by the arrest of a student in the capital Dili left at least one person dead, perhaps four. A United Nations official told the BBC that local police backed by UN police and peace-keeping troops had brought the city back under control. It seems that everything is calming down a little bit. The local UN special representative, Kamalesh Sharma, has held talks with East Timorese leaders to resolve the problem, UN spokesman Brennan Jones said. Violence erupted during the morning when a crowd protesting at Tuesday's arrest of a student gathered at the parliament and then went on the rampage. About 500 youths participated in the ochlarchy after trouble began at the rally outside parliament. Police made about 30 arrests. The crowd looted hotels and shops, including an Australian-owned supermarket that caters mostly to foreigners, and set fire to buildings including the prime minister's house. It was the most serious unrest in East Timor since formal independence was declared this May. "Perhaps trotskyites and their front-organizations of marxist-lubbeists and other council commies, may be behind the ochlarchy," says a spokesman of the Friends of Chomsky, a group associated to the Anarchist Internatonal Support Network for Timor-Leste/East Timor, AISNET: "It's a young police corps, it's a young central administration, but we hope that things can return to normal soon. We guess it may take some time to reach something close to the libertarian in the new impoverished State, and even longer time to achieve Anarchy. We continue our political support and may also give some economical advice if the central administration is interested." AIIS/AIT.
The economic-political system of Timor-Leste/East Timor
As a rule of the thumb a gini-index above 35 indicates capitalism, and a gini-index below 35 indicates socialism. Timor-Leste/East Timor has a gini-index at 38.0 (2002), and thus is significantly capitalist, but not as capitalist as the USA, with a gini-index at 40. 8. A low GDP per capita at 389 US $ per year (2003) also contributes to a low degree of socialism. The degree of capitalism is estimated to ca 65 % (the degree of socialism is ca 35 %). The life expectancy at birth is only 55,5 years and together with an unstable, rather authoritarian political/administrative system, with a lot of ochlarchy (mob rule broadly defined), contribute to a very low degree of autonomy (ca 13,9%). There is a parliamentary system, but it is democratic in name only, not in reality. The degree of statism is estimated to ca 86,1 %. The authoritarian degree is estimated to ca 76,3 %, and the libertarian degree is ca 23,7 %. The system is all in all totalitarian, located close to the middle of the left fascist sector of the fascist quadrant of the economic-political map, see http://www.anarchy.no/a_e_p_m.html . Timor-Leste/East Timor is ranked as no 143 on the ranking of countries according to libertarian degree, see http://www.anarchy.no/ranking.html . These parameters of the system are probably rather long term structural, and it will most likely take long time before the system becomes non-totalitarian, with less than 66,6 % authoritarian degree. It will probably take even longer time to reach anarchy, i.e. real democracy, with significantly small rank- and income-differences plus efficiency. A fair and efficient development of the oil-industry may shorten the totalitarian and semi-democratic periode.
In comparision the populist system of Australia is ranked as no 17 on the ranking of countries according to libertarian degree, with a libertarian degree at ca 45,0 % (authoritarian degree at ca 55,0 %), a degree of socialism at ca 48,0 % ( a degree of capitalism at ca 52,0 % and a gini-index at 35.2) and a degree of autonomy at ca 42,2 %( degree of statism at ca 57,8 %).
Here are some more alarming statistics about East Timor - the poorest country in Asia and remember just an hour's flight from Darwin, source http://etan.org/ :
Only 27.3 % of East Timorese live in urban areas (2005) and roads which have been destroyed in war or fallen into disrepair mean it's extremely difficult for the majority of everyone to access essential services.
Average life expectancy = 56 years of age (2004) (Australia = 80.5)
Infant Mortality = 52 for every 1,000 births (Australia = 5 per 1,000 births) (2005)
Child Mortality (Deaths before the age of 5): 61 children die for every 1,000. (Australia = 6) (2005)
Births Attended by skilled personnel = 18% (1996-2004) (Australia = 100%)
Human Development Index = 142nd (Australia = 3rd)
Percentage of children under weight for age (under age 5) = 46% (Australia = not available) (1996-2005)
Percentage of undernourished population = 9% (Australia = under 2.5%) (2002-2004 average)
Population with access to improved water = 58% (Australia = 100%) (2004)
Population with access to improved sanitation = 36% (Australia = 100%) (2004)
Literacy average = 58.6% (Australia = 99%) (2003).
Only 41.6 % of the population under 15 years of age is enrolled in education (2004)
Physicians = 10 per 100,000 people (Australia = 247 per 100,000 people) (1990-2004)
GNI per capita = US$600 -that's only about US $2.3 a day! (Australia = US$3,3120) (2005)
Timor-Leste/East Timor update July 2006 and later
Australian Prime Minister John Howard has paid a one-day visit to East Timor, where his country's soldiers are deployed on a peacekeeping mission. Mr Howard held talks with the new prime minister, Jose Ramos-Horta, and met Australian troops in the capital, Dili. He told reporters that Australia would not withdraw peacekeepers prematurely. But he warned that the troops could not remain indefinitely, and said it was up to the East Timorese to solve their country's problems. Mr Howard held separate meetings with Mr Ramos-Horta and President Xanana Gusmao, and afterwards said that while Australian troops would continue to provide security, the deployment could be scaled back. "It's important that the impression not be given that we are here indefinitely and that therefore it doesn't really matter what happens within the political processes of the country," Mr Howard said. "I have made the point to both Dr Ramos-Horta and to the president that the future of East Timor is in the hands of the East Timorese. It is not in Australian hands," Reuters news agency quoted him as saying. Australian troops form the bulk of a peacekeeping contingent sent to East Timor in May to help end weeks of gang violence, i.e. ochlarchy (mob rule), in which at least 21 people died. The unrest led to the resignation of the former prime minister, Mari Alkatiri, whose decision to sack 600 soldiers sparked the violence. After meeting Mr Howard, Mr Gusmao warned that a "difficult process of searching for reconciliation" lay ahead for the newly-independent nation. "We hope that Australia will continue to help us because we haven't solved our crisis yet," the Associated Press news agency quoted him as saying.
2006 August - Non-military peacekeeping mission, the UN Integrated Mission in East Timor, or Unmit, is set up.
2007 January - Former interior minister, Rogerio Lobato, goes on trial on charges of arming civilians during 2006 unrest.
2007 May - Prime Minister Jose Ramos-Horta wins presidential election. Many young people believe the support they gave their leaders in the struggle for independence has not been rewarded, and that the government has not listened to their needs. Why not try a system without government, anarchist, a.o.t. based on direct democracy and general consent? For this to work a consensus culture, based on negotiations and a will to make agreements, should be developed in East Timor.
11.02.2008. East Timor's President Jose Ramos-Horta was shot in the stomach and chest in a pre-dawn attack on his Dili home. Rebel leader Alfredo Reinado died in the attack. One soldier was also reported to be seriously wounded. PM Xanana Gusmao, who was also attacked but not hurt, said it was an attempted coup and called for calm. Mr Ramos-Horta has been flown to Darwin, Australia, for more treatment. Mr Ramos-Horta is in a "serious but stable" condition. Australian PM Kevin Rudd pledged to send more peacekeepers to East Timor. It's obviously a destabilising time, with rogue elements at play. Therefore an appropriate show of force is necessary. Extra troops from New Zealand have also been put on standby, the country's defence minister said. Mr Ramos-Horta is the founder of East Timor's independence movement. He spent 24 years in exile after Indonesia invaded East Timor in 1975 and lead the country's bid for independence from overseas. Won Nobel Peace Prize in 1996. Mr Ramos-Horta is a political veteran. He served in the more powerful role of prime minister in the wake of the 2006 violence, before elections last year which saw him switch roles with then President Xanana Gusmao. "I consider this incident a coup attempt against the state by Reinado and it failed," Xanana Gusmao said. "This government will guarantee security and development will continue." Dili is reported to be quiet and heavily patrolled by local and international security forces. Later Prime Minister Xanana Gusmao declared a state of emergency, including a night-time curfew. The Anarchist International Embassy condemns in the strongest possible terms these unacceptable attacks on the legitimate institutions of the country and calls on the Timorese people to remain calm and refrain from all violent acts.
18.02.2008. Timor in Crisis. Carole Reckinger and Sara Gonzalez Devant find rumour, intrigue and the demise of a key player in Timor-Leste's latest crisis:
Timor-Leste's (East Timor) President Jose Ramos-Horta was shot on 11 February by rebel soldiers in front of his idyllic home in the outskirts of Dili. It appears that he was attacked by a group of renegade soldiers. The President is in a 'critical but stable' condition, and he has been airlifted to Australia for further treatment. This incident is shocking, but shows how unstable the situation in Timor-Leste still is. The 'crisis' that started in 2006 is far from over, and Timor-Leste's security forces are unable to provide security - even to the President himself. Once again, foreign troops and resources have been pledged to restore stability and development in the country. The turmoil is a result of a complex political reality, and a society fractious and weary after achieving the goal of independence. The attempted assassination of the President and Prime Minister earlier this week must therefore be put into context.
No present without a past
In May 2005, the Special Representative of the UN Secretary General, in a speech marking the end of the UN peace-keeping operation in Timor-Leste, declared that the peacekeepers' departure showed the world's recognition of Timor as a safe and peaceful country, whose security agencies were able to take responsibility for its internal and external security. The outbreak of violence that started a year later sharply illustrates that this assessment was decidedly over-optimistic. In April 2006, the capital, Dili, went up in flames after the dismissal of 600 soldiers - nearly one third of the military - who protested against discrimination within the ranks of the newly formed Timorese army. The initially peaceful protest culminated in the death of at least 37 people and the displacement of two-thirds of the capital's residents.
General frustration with the Government's failure to alleviate high unemployment and corruption - combined with objections to their response to turmoil in the defense force - encouraged numerous East Timorese to take up arms and join armed groups. Violent gangs of mostly unemployed youths joined the disaffected soldiers, roaming the streets of Dili, burning down houses and torching cars. Some members of the police force defected to join the dismissed soldiers, known as 'the petitioners', and openly confronted the military. Lethal clashes between elements of the national police force (PNTL) and the military (F-FDTL) were followed by widespread rioting and looting in the capital. Law and order broke down and within days the leadership of PNTL disintegrated.
Both the PNTL and the F-FDTL are not perceived to have the trust of the population or the capacity to provide adequate security and order. Past behaviour of some PNTL members while on duty reduced public confidence in the institution: some police members have been involved in sexual harassment, human rights violations, illegal weapons distribution and black market activities. The PNTL has been accused by a Human Rights Watch report of gross human rights violations and 'police abuse has become one of East Timor's most worrying human rights problems.' Moreover, neither organisation is regarded as politically neutral.
Until the election in the summer of 2007, the F-FDTL fell under the control of President Gusmão - a former guerilla leader - while the PNTL reported to Rogerio Lobato who was a staunch Fretilin man - a long term rival of Gusmão, and also regarded as a liability by many within the party. The internal divisions within the leadership date back to the civil war and the Indonesian occupation. The events of 11 February have been shocking and tragic for, above all, the Timorese people themselves. Observers must portray the situation in its full complexity.
Both institutions became internally fragmented due to their mixture of members from different regions and political backgrounds. Though ethnic and regional divisions had not previously been prominent in Timor-Leste, the April 2006 dispute had a significant regional component, and such affiliations quickly gained currency. Most of 'the petitioners' came from the West of the country and complained that they suffered discrimination in a force dominated by officers from the East (reflecting the force's origins in the eastern-based, pre-independence, anti-Indonesian, armed resistance movement). A similar scenario could be observed in the police force, where some members served under the former Indonesian police - mainly from the West - while others were former members of the armed resistance - mainly from the East.
Almost 70% of disciplinary cases within the military resulted from confrontations with police personnel, many of whom were recruits from the former local Indonesian police force.1 The problem culminated in a massacre in late May 2006, when F-FDTL soldiers killed 10 unarmed police officers under UN protection. Regional tensions affected not only the security forces, but increasingly Timorese civilians who identified themselves with either the East or West. Violent groups of youths from different parts of the country took advantage of the situation and made street-fighting a regular occurrence in Dili. A catholic priest described the situation as 'East against West, soldiers against soldiers, police against soldiers, everyone against everyone … It's total madness.'
In the midst of the chaos, after a request from the Timorese government, Australia formed a multinational peacekeeping force to restore order in late May 2006. The removal of the Fretilin-led government and the subsequent electoral victory of the new government led by Xanana Gusmao took place under the guardianship of a United Nations-authorized Australian and New Zealand International Stabilisation Force (ISF). Up until the attempted coup, there were approximately a thousand international military personnel and 1,500 members of the United Nations police in Timor-Leste. Fresh troops from Australia have arrived in Dili.
Major Alfredo, the romantic?
Amidst the generalized mistrust of institutions that were meant to provide security and a leadership that was meant to honour the constitution, certain individuals became popular symbols among the population. Major Alfredo Reinaldo became a crucial figure at the time of the crisis. He led a group of military personnel and members of other security forces out of Dili. There, the Major and his men pledged allegiance to Xanana and Major Alfredo's role in the crisis became both ambiguous and iconic over time. The Major became a symbol of the disenfranchised - the youth, the poor, veterans - and he became key to balancing peace in East Timor. The Major was arrested in 2006, but escaped from Becora prison, downtown Dili, together with 56 other inmates, and later boasted in an interview that he waved at New Zealand soldiers as he left.
Reinaldo stayed in hiding, and calls for him to submit himself to justice failed. He remained defiant, and after his men raided weapons from a police post in March 2007, President Xanana Gusmao sanctioned an Australian operation to capture him. The operation in Same resulted in several deaths, but Reinaldo eluded the Australian operation and his popularity grew among Dili youths. Reinaldo was able to accept the projected hopes of many of those for whom independence brought more disappointment and poverty. The youth in particular had become increasingly frustrated by the lack of government response. Combined with boredom, lack of opportunities for constructive activity and extensive alcohol abuse, Dili's unemployment rate of a staggering 70 per cent contributes to the volatile situation.
Major Reinaldo was a liability, but he was also bold and charismatic. His defiant messages to the authorities and vanishing acts made him a romantic figure that resonated with a generation that had lost its heroes. Filmmaker Max Stahl likened him to East Timor's 'Che Guevara': 'A poster figure on laptops, and graffiti sketches around Dili' and, 'like a poster character, the meaning of his protest shifted its ground.'
While most media reports have been quick to qualify the assassination attempt as a coup, other are more cautious. James Dunne, for example: 'Clearly, there is more to this than meets the eye and we need to know a lot more about it,' adding that: 'As a coup, it was a very unlikely coup, totally botched and certainly one not in keeping with somebody who served as a Major.' Stahl suggests that one possibility is that the assassination attempt was a desperate measure after 77 of the petitioners were reinstated in the army last week. Perhaps he feared losing his position of being a key figure in the balance of maintaining peace in Timor-Leste. High unemployment, widespread poverty, and pervasive trauma provide the fertile ground that allowed what could have been a manageable protest to explode into protracted violence.
At this point, it is too early to tell. However, a final reflection on the role of Major Alfredo in Timorese society and the political scene as it is perceived by the population, may perhaps be provided by the rumours that have circulated in Dili in the hours after the attack. Rumour is often cited by observers to play a conspicuous role in crises, particularly in East Timor. Although it is impossible to compile rumours at any given time, at the early stages of an emergency there is little reliable information circulating, and rumours become the common 'knowledge currency'. One blogger writes: 'Usually, the unconfirmed stories are about 90 per cent correct but that 10 per cent error can affect conclusions by 100 per cent. Some local media were reporting that the President had died which everyone seems to agree is not the case. It is rarely straightforward here.' These forms of misinformation may say more about the situation than is commonly assumed.
Some bloggers may provide the key to understanding the situation in East Timor better than media reports that are more readily available. A blogger on xananarepublic.blogspot.com cites Radio Timor-Leste reporting that Major Alfredo was in fact staying as a guest in the President's home. Ramos-Horta is known in Dili to house guests on a regular basis. This, if true, would prove not only ironic but incongruous with most portrayals of the 'renegade Major'. If proved untrue, it still shows that the Major was perceived, not as a man on the margins of the Timorese political scene but as an essential part of it. This is a perception that does not always transpire in the international media.
In fact, Timorese authorities had been negotiating with a sometimes co-operative Alfredo, from the beginning of the 2006 crisis. Although he had become increasingly defiant and uncooperative, the authorities had decided that it was best to engage him in dialogue. On Tuesday the Australian Foreign Minister acknowledged that the President and Prime Minister of East Timor had requested that the International Stabilization Forces halt the hunt for Alfredo nine months ago, and that the best way forward had been deemed to engage Major Alfredo in dialogue.
In a country with many heroes, and one great enemy (the Indonesian occupier and its stooges), it is difficult for outside observers to let go of eternal heroes, and to submit to the confusing reality of the Timorese political scene today. The events of 11 February have been shocking and tragic for, above all, the Timorese people themselves. Observers must portray the situation in its full complexity.
The problems Timor-Leste faces are numerous and multidimensional. The final report of the Commission for Reception, Truth, and Reconciliation in Timor-Leste warned that 'the deep divisions in our society from 25 years of conflict, and the violence which entered East Timorese political life in 1975, remain a potential stumbling block to the development of a sustainable culture of democracy and peace in Timor-Leste.' These factors, combined with very high unemployment, widespread poverty, and pervasive trauma provide the fertile ground that allowed what could have been a manageable protest to explode into protracted violence. The turmoil that has afflicted the country in recent years has put additional layers of complexity in the Timorese reality.
Sara Gonzalez Devant is a freelance writer and worked in Timor-Leste between 2005-2006 with a Timorese NGO and for the National Disasters Management Office. Her dissertation 'Displacement in the 2006 Dili Conflict: Dynamics of an Ongoing Conflict' won the Prize for best dissertation 2006-2007 at the Refugee Studies Centre, University of Oxford. The paper is published as a Refugee Studies Centre Working Paper (January 2008 WP45). email: sara.gonzalez.devant@gmail.com
Carole Reckinger is a freelance writer and worked in Timor between 2005-2006. She has travelled widely in Asia and has worked on a number of research projects. email: carole81@gmail.com
2008 March - A message from Ramos-Horta, still recovering in Darwin, was broadcast on March 12. In this message, he thanked his supporters and Australia and said that he had "been very well looked after". A spokesman said that his condition was improving and that he had started taking short daily walks for exercise. Ramos-Horta was released from Royal Darwin Hospital on March 19, although he said that he would stay in Australia for physical therapy for "a few more weeks". He also said on this occasion that he had remained conscious following the shooting and "remember[ed] every detail", describing how he was taken for treatment.
2008 April - On April 17, Ramos-Horta returned to Dili from Darwin. He gave a press conference at the airport in which he urged the remaining rebels in the mountains to surrender.
20.06.2008. Xanana: "No business monopolies": The Prime Minister has authorized the PNTL to arrest any business person who sells rice at an inflated price. Prime Minister Gusmão said yesterday that the government is trying to intervene to regulate the prices in the market. In relation to this, the government has invited district commanders from all districts to decide on a convenient mechanism of coordination in order to handle this case. The PM said again that anyone who sells rice for more than US$16 will be arrested. Investigations into human rights abuses to continue: President Jose Ramos Horta has instructed the PNTL and F-FDTL to continue investigating the officers who have committed human rights violations during and after the Joint Operation Command. According to the President, F-FDTL and PNTL must be serious in investigating these abuses otherwise the reputation of these two institutions will be tainted, as a consequence people will not believe and respect these them. "I heard there have been allegations of human rights abuses. I want a deep investigation into this," said the President.
24.06.2008. UNDP: Building Trust In The Post Conflict Phase. As part of their support to the National Recovery Strategy (Hamutuk Hari'i uturu), the UNDP and the Ministry of Social Solidarity (MSS) Monday 16.06.2008 launched the project "Support to the Trust-Building Pillar of the National Recovery Strategy". The main objective of the programme is to operationalise the trust-building or Hamutuk Hari'i Konfiansa pillar of the national strategy and enhance coordination among the different organisations which support this pillar. The Trust-Building pillar forms an essential part of the Government of Timor-Leste's National Recovery Strategy 'Hamutuk Hari'i Futuru', together with four other pillars (housing, stability, socio-economic development, and social protection) to address the needs of the displaced population and the wider communities receiving them in response to the ongoing effects of the 2006 Crisis. The objective of the Hamutuk Hari'i Konfiansa pillar is to increase the trust between the people and the government and to strengthen communities guaranteeing the participation of the displaced in the planning and management of initiative for the promotion of return, resettlement and reintegration.

This project was formally endorsed by the Minister of Social Solidarity Ms. Maria Domingas Fernandes Alves and UNDP Resident Representative Mr. Finn Reske-Nielsen, at a signing ceremony in Dili on 16 June 2008. Its total budget is USD 940,991, which is entirely funded by the Australian Agency for International Development (AusAID). The funding allocated by AusAID is part of a AUD $1,5 Million (equivalent to USD 1,4 Million) support to address reconciliation and peace building, which is also providing support to the MSS/UNDP Strengthening Institutional Structures and Mechanisms for Dialogue project. In the framework of the Strengthening Institutional Structures and Mechanisms for Dialogue, UNDP will take a leading role in assisting the Government in the associated dialogue process. The project will establish a small grants fund for registered NGOs to support trust building activities and will be administered by a Programme Steering Committee comprising of MSS, UNDP and AusAID. The Hamutuk Hari'i Konfiansa Working Group shall be the forum for initial vetting and submission of proposals.

In her remarks, the Minister of Social Solidarity Ms. Maria Domingas Fernandes Alves thanked AusAID for their generous support to the trust building pillar. "Together with UNDP the Ministry of Social Solidarity hopes to work with NGOs, local authorities and others to build trust in receiving communities and better facilitate peaceful IDP returns. Dialogue and reconciliation are an essential component of the national recovery strategy. All elements of the Strategy depend on the strengthening of trust throughout society and between the citizens and their Government. I hope that this project will be able to commence as soon as possible so that we can facilitate this important trust building work." Thanking the Government of Australia for the project's funding, UNDP Resident Representative Mr. Finn Reske-Nielsen highlighted partnership between UNDP and the Ministry of Social Solidarity in executing the project saying this augurs well for sustainable development. Mr. Reske-Nielsen, who is also the Deputy Special Representative of the Secretary-General (DSRSG), congratulated the Minister for her strong leadership in resolving the IDP issues in the country, and called on donor partners to fill the funding gaps in the other pillars.

The project's implementation is timely, coming against the background of the National Recovery Strategy effort spearheaded by the Government. Currently, a variety of initiatives are being developed by the Government within the framework of the National Recovery Strategy Hamutuk Hari'i Futuru to provide internally displaced people (IDPs) with viable options for relocation from camps. Therefore, UNDP support will specifically focus on trust building efforts, which are a key plank of the National Recovery Strategy. Through the successful implementation of the Government's Hamutuk Hari'i Futuru National Recovery Strategy, more than 1827 IDP families have returned to their homes. As past experience shows, their successful resettlement and reintegration requires not only a range of assistance packages but also a process that can pave the way for repairing the community relations strained in the aftermath of the 2006 Crisis.
Impunity for murder. Critics in East Timor are fuming over Ramos-Horta's recent decision to grant early release from prison to 94 inmates, some of whom were convicted for crimes against humanity for their roles in the violent ransacking the country on its declaration of independence from Indonesia in 1999. On May 19, Ramos-Horta quietly signed the release order, which according to Timorese lawyers should have first been subject to a judicial review to determine if the convicted were truly able to peacefully re-enter society. The apparent amnesty comes as political tensions are on the boil four months after an assassination attempt on Ramos-Horta and the botched kidnapping of Prime Minister Xanana Gusmao by an armed rebel group. They also coincide with questions about the president's mental state after his long hospitalization in Australia, critics say. The 58-year-old Nobel Peace Prize laureate Ramos-Horta is still recovering from three gunshot wounds inflicted during the failed assassination bid. He has said, while under an induced coma following the attack, that God defended him against demons who had tried to claim his soul. Since his return to Timor from an Australian hospital two months ago, Ramos-Horta has variously compared himself to India's Mahatma Gandhi and US civil rights crusader Dr Martin Luther King, and emphasized his heartfelt desire for forgiveness over the assassination attempt.
Those released included Joni Marques, a notorious militia leader who in 2001 was found guilty of committing crimes against humanity, including torture and murder. He was originally sentenced to 33 years and four months in prison and briefly escaped in 2006. Critics contend Marques has never demonstrated remorse for the murders he ordered, including that of a Catholic nun. The UN's Gentile has previously said such flagrant disregard for the rule of law and human rights would cause the UN mission to reevaluate its mandate. "Fundamental principles are not to be played with," he recently said, referring to Ramos-Horta's soft treatment of those convicted of crimes against humanity. Ramos-Horta's clemency is also pouring cold water on his bid to eventually leave government service and head the United Nations top human rights body, where he is currently among short-listed candidates to win the prestigious post. Local groups contend he is not qualified for the position. "I am worried with what he's doing to my country with respect to the rule of law and human rights," member of parliament Fernanda Borges said. "I leave it to the deciding panel to choose someone who really, really wants to defend human rights in the world. But [Ramos-Horta's] track record in my country with his presidential pardons does not speak well." Borges said a number of politicians and civil society groups plan to go before a court of appeal later this week and present their case to reverse Ramos-Horta's early releases. Yet it is altogether unclear how the government would respond should the appeals court move to reverse the presidential order. The Anarchist International Embassy says Ramos Horta should withdraw from the president position and leave the public room, due to his mental state.
27.06.2008. Ramos-Horta withdraws from pursuit of UN job. Jose Ramos-Horta is to stay on as President of East Timor. Mr Ramos-Horta has announced that he will not put his name forward for the position of UN commissioner for human rights. In a statement released to the media this afternoon, he said that instead, he would serve out his five-year presidential term.
15.07.2008. Truth inquiry. The Presidents of Indonesia and East Timor have formally accepted the findings of a truth inquiry that blames Indonesia for atrocities committed during East Timor's independence vote in 1999. The bilateral truth commission, set up in 2005 to investigate the bloodshed, said Indonesian soldiers, police and civil authorities engaged in an "organized campaign of violence" against independence supporters. The report blames Indonesia's army for a campaign of violence against civilians that included murder, forced displacement, illegal detention and rape. Indonesia's President Susilo Bambang Yudhoyono has expressed his"deepest remorse" for the crimes committed in East Timor in 1999. By accepting the final report of the Truth and Friendship Commission, President Susilo Bambang Yudhoyono has become the first Indonesian leader to formally acknowledge the institutional responsibility of the Indonesian state, its military and police in the violence which surrounded East Timor's vote for independence in 1999.

After accepting the report while standing alongside East Timor's President Jose Ramos Horta and Prime Minister Xanana Gusmao, President Yudhoyono expressed his "deepest remorse for what happened in the past that led to the victims and loss of property". "Let us remember those who fell in the dark of our past, by remembering them, let us resolve that what befell them shall never happen during our lifetimes to any human in the future," he said. Presidents Susilo Bambang Yudhoyono and Jose Ramos Horta signed a joint statement expressing "remorse to all those who suffered immeasurable pain and physical and psychological wounds as direct or indirect victims of violations of human rights that occurred in the period leading up to and immediately following the popular consulation in East Timor in August 1999".

The word "apology" was never heard but an acceptance by President Yudhoyono of "institutional responsibility" on behalf of the Indonesian state and its military and police goes further than any other Indonesian leader. Indonesia's Defence Minister Juwono Sudarsono says both sides have agreed on the choice of words. "The word is 'remorse'," he said."I think that's the word we agreed on because both sides felt that there are mistakes done by both sides in that particular period, particularly in September 1999." A coalition of international human rights groups has the dismissed Truth and Friendship Commission as meaningless without prosecutions or the substantial reform of the Indonesian military. The commission was boycotted by the United Nations, which has already blamed Indonesia and demanded that those responsible face justice. The anarchists agree with this dismissal and UN's position.
12.12.2008. The Local Governance Monthly Bulletin for November 2008 is available online in Tetun and English. Please click on the links below to download this month's bulletin.English Version: November Bulletin, Tetun Version: November Bulletin . In this edition: 1. Government holds Consultations on Three Draft Local Governance Laws, 2. Assembly Members Share Experiences and Build Friendship During Comparative Visits. This bulletin is produced monthly from the National Directorate of Local Development and Territorial Management (DNDLOT) in the Ministry of State Administration and Territorial Management with support from the Local Governance Support Programme. Information about this department and the decentralization process, as well as information about the Ministry's work in general, is available on the Ministry's website at www.estatal.gov.tl . Please feel free to forward this bulletin on to any interested colleagues.
10.04.2009. Anarchy of Norway contribution targets the justice sector. Demonstrating a strong commitment to long-term development needs and improved rule of law in Timor-Leste, the Norwegian central administration announced a NOK 19 million contribution (US$2,9 million) to the UNDP Justice System Programme over a three year period. The signing ceremony, attended by the Norwegian Ambassador, Mr. Eivind S. Homme as well as the UNDP Resident Representative, Mr. Finn Reske-Nielsen, in the presence of the Minister of Justice, Dra. Lucia Lobato, took place on 3 April at the Ministry of Foreign Affairs of Timor-Leste.

"With this additional contribution we would like to reinforce Norway's commitment to supporting the judicial sector with a view to improving the delivery of and access to justice to the people of Timor-Leste," said Mr. Eivind S. Homme. This contribution, which will begin in 2009 and continue into 2010 and 2011, is of great assistance to the new and expanded programme, particularly as the early years are the most resource intensive years. The funds will be used to increase the current level of support to the judiciary. "Since 2004, Norway has been a trusted partner in ensuring financial support to the effective implementation of the Justice System Programme. Such a support has not only strengthened capacities for the judiciary institutions to uphold the rights enshrined in the Constitution of RDTL and but it has also contributed to Government's efforts in consolidating the rule of law in Timor-Leste. We thank Norway for this generous contribution which will go a long way in improving the judicial system and the rule of law, which is critical for stability and development in this country", said the UNDP Resident Representative, Finn Reske-Nielsen.
11.04.2009. Anarchy of Norway's Statement at Timor-Leste Development Partners Meeting April 2009. Your Excellencies, Ladies and Gentlemen. Allow me first of all to thank the Government of Timor-Leste for your preparations and excellent background papers, for your kind hospitality. "Good bye conflict - welcome development." I congratulate you with having come this far, and with progress in a number of areas last year, as well as with formulation of the National Priorities for 2009. Norway is fully committed to the Paris Declaration Principles; we want our support to be in line with your National Priorities. We also recognize that the quality of assistance, the competence and integrity of international advisers, that national capacity building and local ownership must constitute an integral part of any project, are requirements that we as donors must live up to.

We highly welcome your new priority area; Clean and Effective Government, with its focus on Government accountability, transparency and integrity. The
establishment of a Civil Service Commission and an Anti-Corruption Commission will be important in this regard. Experience from other countries demonstrate that an anti-corruption institution with an autonomous status and strong investigating powers may be very efficient tool, also in raising the required awareness of these challenges. We also welcome the establishment of the Aid Effectiveness Directorate in the Ministry of Finance

At the moment, the whole world is going through a severe financial crisis. With significant decline in oil prices, Timor Leste is also experiencing a considerable decline in the Government's revenues. I trust the Medium-Term Strategic Planning outlined in the background paper, will assure sound and sustainable economic growth policies, with all stakeholders engaged in this process. I congratulate Timor-Leste with its Petroleum Fund performance during the financial crisis. Your fund, with exposure to US Government bonds only, had a positive return of 7% in 2008. The Norwegian Pension Fund with half of the portfolio exposed to equities lost almost one fourth of its Fund last year. These figures show that the current investment strategy for the Petroleum Fund has served Timor Leste well.

Long term sustainability and transparency should also remain the guiding principles for the Petroleum Fund. The Petroleum Fund Law does provide flexibility to exceed the long term sustainable levels of withdrawals, drawing down on the Petroleum Fund beyond the Sustainable Income. But this will over time, sooner or later, result in a depletion of the Fund, which may force the Government to dramatically cut public expenditures, with serious impact on the domestic economy and people's well-being.

Last year Norway and Timor-Leste signed a new MoU until 2012 for our development cooperation, within sustainable management of natural resources and governance, democracy and human rights. We also signed a new 5-year agreement on oil and gas-resources and revenue management, the environment and the implementation of the Extractive Industries Transparency Initiative (EITI). We are now in the process of negotiating a new long-term agreement on clean energy - hydropower cooperation.

Strengthening of the Parliament and the Judicial Sector are central for building democracy and the rule of law. Here I want to commend your Parliament for its progress as a lawmaker and on its growth as an institution. We have also noted considerable progress in the justice sector with Timorese now filling the positions. Norway has this week signed a new agreement on continued support to the justice sector.

Inclusion of women, youth and children in the nation building process is important. Norway is as a donor committed to follow up Security Council Resolution 1325 on Women, Peace and Security, giving high priority to women's rights and gender equality. We compliment the Timor Leste Government for successfully hosting the international conference on Youth, Identity and Nation building last year, and recently the international conference on Women as Creative Agents for Peace. Moreover, we note the Governments commitment to follow up the conferences recommendations.

In leaving conflict behind and delivering development, the Government must continue to address the underlying causes of conflict. Continued attention must be given to the ongoing Review of the Security Sector Reform and addressing the fundamental problems within and between the Timorese security forces. In this regard, Norway believes further efforts are needed to ensure durable solutions for the IDPs. In doing so we recommend the Government to work closely with involved partners; including the Norwegian Refugee Council.

Solutions to the recommendations of the CAVR, the Commission of Inquiry (CoI) and the Commission of Truth and Friendship (CTF) must be found within the framework of international and national law. A criminal justice approach needs to be complemented with a non-formal system of truth and reconciliation as we have seen in other countries. We fully recognize that there are legitimate concerns for national interest and security. To reach national reconciliation, attention should be given to the potential impact of impunity, as this risks undermining peoples trust in the rule of law and justice. If some of the recommendations from the CAVR report can not be solved today, the possibility of solving them later should be kept open. Through the engagement of our Special Envoy to Timor-Leste, Norway remains committed to support Timor Leste in this process.
28.07.2010. Oilwatch Southeast Asia - Unity Statement - Dili, Timor-Leste 28 July 2010. Oilwatch Southeast Asia is a network of civil society and community organizations in Burma, Indonesia, the Philippines, Thailand, and Timor-Leste working to prevent the negative impacts of fossil fuel exploration, extraction, production and processing. Oilwatch Southeast Asia representatives met in Dili this week to share information about situations in our countries, plan future regional activities and express solidarity with the people of Timor-Leste's ongoing struggle to maximize the benefits from their oil and gas resources, while avoiding damages like those petroleum development has caused in other Southeast Asian countries.

We share common concerns about the impacts of petroleum industry activities, which have caused environmental disasters throughout the region, as well as human rights abuses such as land confiscation and forced relocation from natural gas projects in Burma; loss of livelihoods and corruption in Indonesia; the manipulation of the Philippines' energy policy by international financial institutions (IFIs) and multinational corporations; and health problems from massive petrochemical pollution in Thailand. In our region and worldwide, people are increasingly confronted with crises from energy security and climate change. These and many other issues are likely to occur in Timor-Leste as it expands exploitation of oil and gas deposits, especially after activities begin on shore. If Timor-Leste is to successfully manage these challenges and avoid the resource curse-related problems, it must learn from other countries' experiences and compel oil companies, governments, IFIs and multilateral institutions to respects the rights of its people, communities, environment and future generations.

Timor-Leste is the most oil-export-dependent country in the world, and many Timor-Leste citizens hope that its non-renewable petroleum wealth will pay for public services and improvements in people's lives today and tomorrow. They also hope that it will be a motor for non-oil economic development which can support the economy after the oil and gas is exhausted in a few decades. However, in Burma, Indonesia, Thailand and the Philippines, promises that oil and gas will improve people's lives have not been realized, and Timor-Leste can learn from our experiences. We are concerned that Timor-Leste is about to approve in its first deep-water drilling, hopes to bring the Greater Sunrise gas pipeline and LNG plant on shore and plans to build a refinery, supply base, and petrochemical factories as a "petroleum corridor" along its southwest coast. This country is rapidly spending its oil revenues on projects with little long-term benefit for its citizens, and is even considering going into debt so that it can spend even more.

In our countries, such activities and policies have increased poverty, repression, suffering, injustice, displacement, disease, environmental degradation and human rights violations. As a new nation, Timor-Leste's legal framework and regulatory institutions are undeveloped and inexperienced. Oilwatch Southeast Asia urges Timor-Leste not to copy the mistakes of our countries, but to move cautiously in exploiting Timor-Leste's oil and gas fields, always remembering to put the interests of its people, especially children, first. Petroleum resources should only be developed if they will provide a blessing, not a curse.
In solidarity with the people of Timor-Leste,
Arakan Oil Watch, Burma
Central Visayas Fisherfolk Development Center Inc., Philippines
Ecological Alert and Recovery - Thailand
JATAM, Indonesia
Kalikasan People's Network for the Environment, Philippines
Timor-Leste Institute for Development Monitoring and Analysis (La'o Hamutuk)
***
La'o Hamutuk
P.O. Box 340, Dili, Timor-Leste
Telephone: +670-3325013 or +670-734-0965
E-mail: info@laohamutuk.org
Web: http://www.laohamutuk.org
The Anarchist International Embassy and the Anarchist International mostly agree with La'o Hamutuk and Oilwatch Southeast Asia in this case!
Look to the Anarchy of Norway for an oil and gas policy that mainly benefits the People, seen as a class in contrast to the superiors in rank and/or income!
14.07.2011. Strategic Development Plan 2011 - 2030. From the Secretary of State for the Council of Ministers and Official Spokesperson for the Government of Timor-Leste Ágio Pereira, July 14, 2011 - Díli, Timor-Leste

The Strategic Development Plan launched. The Timor-Leste Strategic Development Plan 2011 - 2030 [SDP] has been launched by His Excellency Prime Minister Kay Rala Xanana Gusmão during the Timor-Leste Development Partners Meeting at the Díli Convention Centre. The Prime Minister described the plan, recently endorsed by the National Parliament, as a document that sets a vision for the next two decades and marks the start of a bold new stage of development. He noted that the process of drafting the plan "was led by our people, belongs to our people and reflects the aspirations of our people." At its core, Mr Gusmão explained, the SDP is about delivering "the provision of better living conditions to the entire Timorese population, within a feasible and tangible period of time."

The plan focuses on three key industries: Agriculture, Tourism and Petroleum with a plan to improve agricultural productivity to achieve a goal of food security by 2020, strategies to leverage Timor-Leste's natural beauty, rich history and cultural heritage to achieve the potential to develop tourism as a major industry, and pathways to maximise local participation and shared benefits flowing from growth in the petroleum sector. The plan also sets new economic policy directions to support private sector development and build the finance industry in Timor-Leste. The Strategic Development Plan is available to download through the Government Website.

The TLDPM saw round table discussions on the three targeted growth sectors: Agriculture, Petroleum and Tourism, and three key supporting sectors: Infrastructure, the Social Sector including Education and Health and the sector of Banking, Finance and Investment. Development partners indicated where they can offer assistance that is aligned to the SDP. Luis Constantino declared in the Petroleum Round table that "The SDP presents a bold plan and the World Bank fully supports its objectives." The Prime Minister concluded his speech at the launch noting "We are aware that this is an ambitious plan and that the challenges inherent to its implementation are enormous. However, as leaders of this Nation and having extensive knowledge of the needs and yearnings of our People, we know this is a feasible and timely plan."

The TLDPM concluded with the endorsement of the Díli Development Pact, a set of commitments on behalf of the Government and the Nation's development partners to ensure the transition to a new paradigm in development engagement. This Díli Development Pact takes the global agreements on development partnerships and applies then to the country level in Timor-Leste. ENDS
Ágio Pereira +670 723 0011

E-mail:
agio.pereira@cdm.gov.tl
or
govtlmedia@gmail.com
Website:
www.timor-leste.gov.tl
---
16.10.2020. The Anarchist International Embassy and AI/IFA have looked at the development in East Timor since 2011, and found it disappointing. The LAW OF CORRUPTION ravages in East Timor. And real democratic counterforces are weak. So Timor Leste's People have a serious challenge, that we hope they will solve by class struggle: The People vs The Bureaucracy broadly defined in public and private sector. NB! The genom-structure of the Timor Lestes' population is vulnerable vis-a-vis corruption, so this may be a difficult problem to solve. But: Good Luck!
Cordially ....
Chargé d'affaires A. Quist
for AIE
---
Interested in news, comments and actions on East Timor? Click on:
http://www.timor-leste.gov.tl/
http://www.anarchy.no/easttimo.html
http://www.anarchy.no/chomsky1.html
UNITED NATIONS PEACEBUILDING COMMISSION
SORRY - THIS LINK DOES NOT WORK ANYMORE
Quoting from this report's references: ANARCHIST INTERNATIONAL EMBASSY IN OSLO. To East Timor: Congratulations with
Independence and hopefully Anarchy. Available at http://www.anarchy.no/easttimo.html
---
Affiliate to the
Anarchist International's
support network for Timor-Leste/East Timor - AISNET!
---