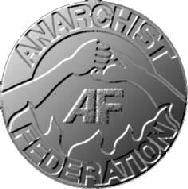 WELCOME TO THE
ANARCHIST FEDERATION
British/anglophone section of the International of Anarchist Federations
Great Britain, Ireland, USA, Canada, Australia, New Zealand, Mauritius and the rest of the Commonwealth of Nations, a.s.o. For Mauritius see NAWU- Click here! .
ABOUT AF - A SECTION OF IAF/AI
For Real, i.e. including green Democracy = Anarchy & Anarchism - and more of it!
This is the official website of the Anarchist Federation.* International Journal of Anarchism, IJ@, is our main organ, click on www.anarchy.no or the rollerbanner below. The most interesting domestic British anarchist paper, seen historically, is "Freedom" published by "Freedom Press". Today "Freedom Online" published by AF keeps up the tradition. The logo above shows the traditional anarchist greeting and the fire of love for freedom, equality, solidarity and other anarchist principles, placed on a shield - a symbol of protection.
Following the example of the French Anarchist Federation, FAF, expanding to include Francophones, AF has unanimously decided to include the Anglophone countries world wide. As some of these countries are in the North, the AF also has joined the Northern Anarchist Confederation, NAC, as an associated member. AF is an anarchist confederation with several land sections/federations, one for each anglophone country, as declared in the IAF-IFA-AI principles. The AF is organised as a loose network of anglophone networkmembers/subscribers, groups and individuals, to IJ@/AI. The AF often has joint actions, mainly direct actions, based on all the anglophone countries.
Anglophones! Contact AF and join the AF-network today! Be a networkmember/subscriber to the IJ@/AI/IFA! Feel free to forward this information to your own network, and/or link up the Website of AF at your blog or homepage. Join in the struggle for and towards anarchy and anarchism, i.e. for socialism and autonomy; against economical plutarchy - that is capitalism; and against statism -- in the anglophone countries and world wide... Of course a struggle without ochlarchy (mob rule broadly defined), the opposite of anarchist, anarchy and anarchism!!! A struggle for anarchy and anarchism as opposed to all forms of marxism (state-socialism), liberalism and fascism, including populism. A struggle for a movement of the societal, i.e. economical and political/administrative, systems -- in libertarian direction, less authoritarian degree... AF always works and demonstrates with dignity, uses real matter of fact arguments and adds weight behind via direct actions, mass actions, and via elections. More information is available via "contact AF" below.
SLOGANS: Less Than 1,5° C Global Warming! Drop Fossil Fuel! Green Energy! Full Employment! 5 % Green GDP growth! Small Income & Rank Differences!
Down with the Gini-index to 20 %! Liberal Social-Democracy! Real & Green Democracy! Eco-Anarchy For Ever! Sufficient High Democracy Degree! Zero Population Growth!
Join The Green Global Spring (GGS) - A bottom up pressure action for sufficient high degree of democracy, that will
automatically also be sufficient green, via Cogrips-model and -policy - in due time before full blown climate-crisis. Click here!
---
Web of AF: http://www.anarchy.no/afb.html
---
Direct actions, press releases, comments and more of AF:


ONLINE
The official organ of the Anarchist Federation
Go to Freedom Online - Click here!
---
IJ@:
---
*) Due to problems with marxian infiltration from council communists, trotskyites, etc. in earlier AF (British section of IAF) we have reorganised according to the principles of IAF/IFA and the other anarchist principles of the Anarchist International of today. Thus AF must not be mixed up with the mainly marxian so called CAF (Communist "Anarchist" Federation)/ACF ("Anarchist" Communist Federation), also known as the "AF of Ireland" and "British AF" rooted back to ACF/CAF, i.e. ochlarchists (ochlarchy = mob rule, must not be mixed up with anarchy and anarchists) falsely posing as anarchist at the American mainly marxian server "flag.blackened.net", hosting a lot of council commie, trotskyite and marxist lubbeist provokers, ochlarcist infiltrators, posing as anarchists, that for a while ruled the AF-organisation.
This false, i.e. de facto marxian and communist, and in reality not anarchist, organization, has later got a Website at http://www.afed.org.uk/. NB! They, i.e. "afed.org", are 1. communists, e.g. from the trotskyite, council communist and marxist lubbeist tendencies, authoritarian marxist provocateurs that falsely pose as "anarchists" when acting ochlarchist, including chaotic and criminal, to 2. falsely put the blame on anarchists and discredit the anarchist movement as much as possible to promote marxism and communism.
This marxian bunch of ochlarchists call themselves anarchist communists, i.e. communism, while we, the real AF a.o.t. is communist/commune anarchist, i.e. anarchism. These two marxist sections, the Irish and British, are also joined together in one communist federation, i.e. not a confederation with national federations as AF, and this is against the IFA-IAF principles that state "one federation in each country". We, the real AF and anglophone libertarians, continue as a free, anarchist organisation without marxian and ochlarchical tendencies, and affiliated to IAF/AI since 1988. The British and Anglophone Anarchist Federation is much larger than the communist "anarchist" federation. AF British and Anglophone has about 600 members only in Mauritius, and a lot of other networkmembers/subscribers, groups and individuals, in anglophone countries world wide. Several thousands of anarchists are associated to the anglophone AF-network, while "afed.org" has most likely around a hundred associates, however sometimes very active as marxian provocateurs. "Afed.org" is not a member of IFA, but excluded by IAT via a Brown Card, for significant marxist ochlarchical tendencies.
The Anarchist Federation affiliated to AI/IFA is rooted back to the British Anarchist Federation that was reorganised in the early 1960s. At that time this was a broad based federation including both anarchists and semilibertarian marxists and liberals, so it hardly deserved the name anarchist. Mainly some of the semilibertarian marxists, sometimes wrongly called "anarcho-marxists" - an oxymoron, related to this federation, among them Stuart Christie and Albert Meltzer, proposed to do political prisoner support at one of the yearly meetings of the British Anarchist Federation, and soon after a preliminary "Black Cross" appeared, however not called anarchist. Later this organization became the Anarchist Black Cross, and supported by IAF/AI. The Anarchist Federation, British and Anglophone, works closely connected to the Anarchist Black Cross.
The organ of AF, Freedom, now Freedom Online, the British anarchist paper, in October 1994 published the IFA resolution the Oslo Convention of 1990 against mob rule etc. related to an ochlarchical meeting in October 1994 arranged by authoritarian chaos-punks, marxians and mad fogarchs posing as "anarchists", called "Anarchy in the UK", with magical "Levitation of parliament" as the main "direct action". Vernon Richards et.al. of Freedom and Freedom Press denounced this meeting, together with the IAF/IFA.
---